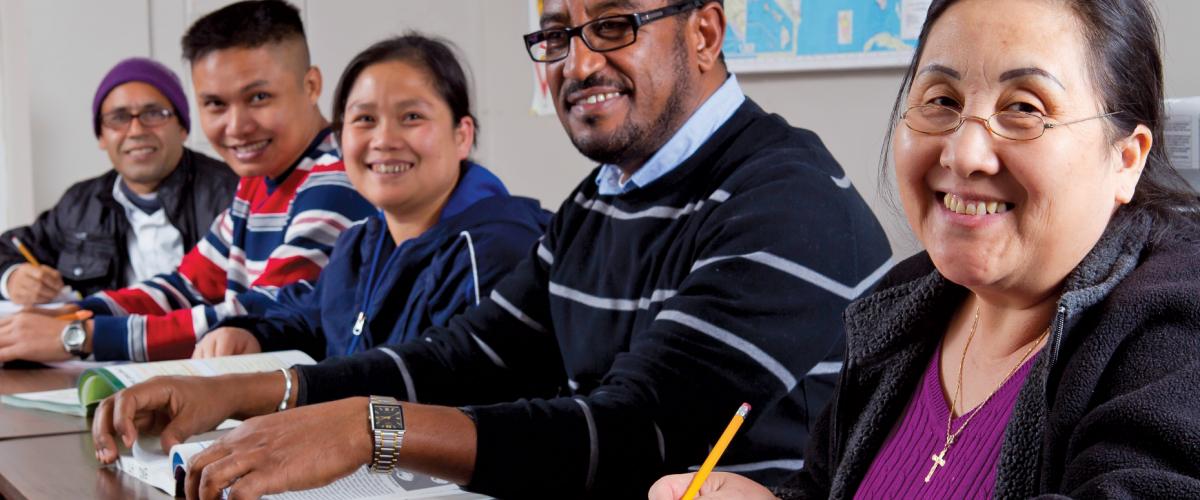 Mission
The mission of the Saint Paul Community Literacy Consortium (SPCLC) is to improve the quality and availability of adult literacy services in St. Paul, Minnesota, helping develop a more literate community.
History
SPCLC was founded in 1994 as a comprehensive effort to increase adult literacy in St. Paul. Services include English as a Second Language, GED and Adult Diploma, career pathways, digital literacy and distance learning, and college readiness. SPCLC works collaboratively and cross-culturally to benefit adult learners, and is the largest ABE consortium in Minnesota. Over the past 25 years, SPCLC has collaborated with many organizations to proactively meet adult basic education needs in St. Paul. Current projects include: participating on the leadership team for the Council on Black Male Success in St. Paul, which works to improve outcomes of Black men and youth ages 11-32; and serving as a community partner with the American Library Association New Americans Project, which is identifying best practices in serving immigrants and refugees.
A Partnership Responding to Community Needs
SPCLC is a community-based collaborative, building literacy in a collaborative, inclusive, comprehensive manner. Membership includes community based non-profits, St. Paul Public Schools Adult Basic Education, and the St. Paul Public Library. Funded through the public and private sectors, SPCLC works collaboratively and cross-culturally to benefit adults and their families needing literacy services.
Values
SPCLC works to develop and deliver the highest quality, most effective services to help adult learners master literacy and related skills, utilizing professionally trained staff and skilled volunteers. Values include collaboration, diversity, empowerment, equality, accountability, service, and commitment. SPCLC emphasizes skilled instruction, appropriate use of technology, and integrated skill development to serve adult learners.
Five Year Narrative
Each Minnesota ABE consortium must complete a comprehensive narrative detailing every aspect of their operations. SPCLC completed their narrative in 2020. It can be accessed here.